Dental Implants 
 Have you had enough of wearing dentures?.. it`s now possible to have a complete set of beautiful new and permanent fixed teeth, no more dentures
  …and incredibly this  treatment can be done in  just 1 day!
This treatment is truly life changing..!
| | |
| --- | --- |
|   The ALL ON 4 dental implants technique is a revolutionary procedure which offers patients a safe, immediate and cost effective way to replace all their missing or failing teeth .This treatment was developed by Portugese implant dentist Dr Paulo MALO using a combination of biomechanics, computer simulation and extensive clinical research. | |
dentureshop at Leeds is a service provided by HQ dental and also home to our sister company-The Yorkshire Implant Centre which is one of only a handful of operations able to provide this remarkable treatment.
   the advantages of this treatment
It`s all done in one day!

….this is truly groundbreaking-traditional dental implant surgery usually involves multiple procedures and can take up to a whole year to complete…

It`s a healthier option!…

.with just 4 implants per arch your new teeth are easy to clean and maintain.
It`s a treatment for almost everyone!…and can usually be performed on patients with diabetes, osteoporosis and other health conditions that are often contradictory for conventional implants.
It`s cheaper!… and is typically about half the cost of alternative treatment (which usually involves many more implants and costly and uncomfortable bone grafting)
  this remarkable treatment provides complete oral rehabilitation!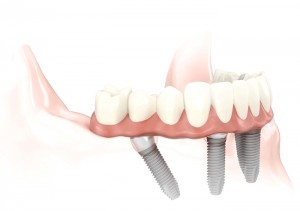 frequently asked questions
What can I expect from this treatment

……at last you will be able to eat properly again, your new teeth will be completely secure so no loose rubbing dentures or sore spots…you will be able to eat all the food that you used to eat  with total confidence.

Am I suitable for this treatment?

…the answer to this is almost always yes!…. angled abutments mean that even people who have previously been told that they are unsuitable for dental implants can now have this treatment.

Will it hurt?

….the answer to this is no!-having dental implants  is officially a pain free procedure….and sedation is available for nervous patients.

When can I have this?

….at the Yorkshire Implant Clinic we do things differently-we are always pioneering and refining what we do and strive to offer new and improved levels of service…we are genuinely caring and will always try to accommodate and help you in any way that we can...which means that you can probably have your beautiful new smile sooner than you think.

How much does this treatment cost?

….everything at dentureshop and The Yorkshire Implant Centre is produced in  our own facility where we  have our own `cone beam CAT scanner`and our scanner is one of only a few in the country which means that we can keep out prices low.
Cone Beam CAT Scanner
The starting point for any dental implant is a bone scan  to find out the position and quality of bone. A dental cone beam scan offers invaluable information when it comes to the assessment and planning of surgical implants. The AAOMR also suggestes cone-beam CT as the preferred method for presurgical assessment of dental implant sites.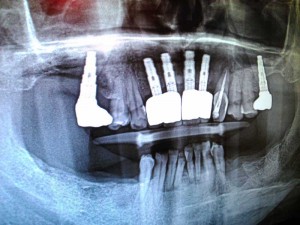 Our new state of the art `all on 4` system is much less expensive than having conventional implants. Everything is menu priced and there are no hidden costs and we can also arrange different easy payment options.
   TOTAL COST of ALL on 4 treatment      £13500 per arch( inclusive price).
 Call us for more information, we will listen to all your concerns and answer all your questions
01132 2796667
or request via the form below
Error: Contact form not found.